+ Jonathan Rhys Meyers +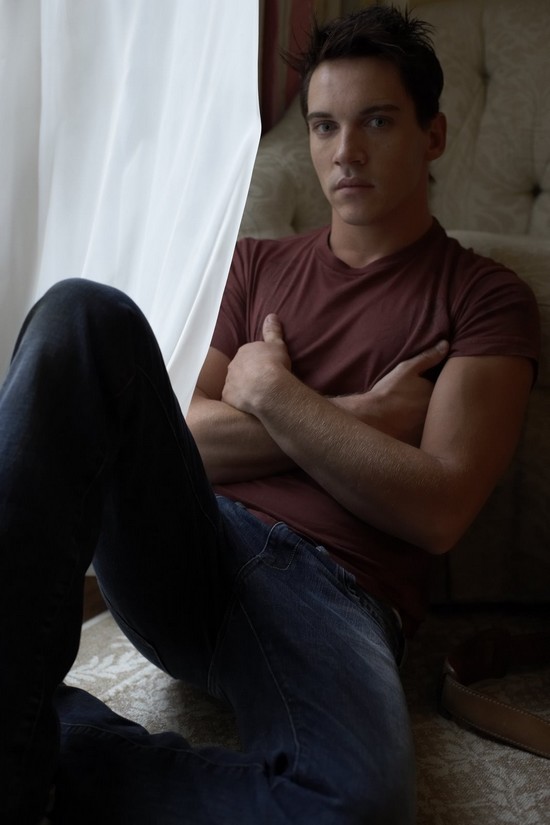 Nom:
O'keefe
Prénom:
Jonathan Michael Francis
Surnom:
Jonny
Date de naissance:
27 Juillet 1977
Signe Astrologique:
Lion
Lieu de naissance:
Dublin, Irlande.
Taille:
1m78
Résidence:
Il vit entre Londres, Royaume Uni et Cork, Irlande. Il a aussi un appartement au Maroc.
Famille:
Son père s'appelle John et sa mère Géraldine, il a trois frères: Jamie, Paul and Alan ainsi qu'un neveu Dylan. Sa mere Geraldine est décédée en novembre 2007 à l'age de 50 ans.
Jonathan est né le 27 juillet 1977 à Dublin en Irlande. Un an plus tard, sa famille déménage à County Cork. A l'âge de 3 ans, ses parents se séparent, Jonny et son jeune frère Alan restent avec leur mère et les deux autres partent vivre avec leur père. Jonathan a eu une enfance mouvementée, passant même quelques temps à l'orphelinat, il était très mauvais élève et a été renvoyé définitivement de l'école à l'âge de 16 ans.
Il est vite repéré par Hubbard Casting, une agence qui cherchait des acteurs pour le film
"La Guerre des Boutons".
Il passe des auditions pendant trois jours, mais finalement le rôle revient à un autre acteur. Désespéré, il est cependant rappelé pour tourner dans un spot publicitaire. Malgrés son acceptation, il est embarrassé par l'idée de tourner une pub pour une soupe. La même année, en 1994, il décroche son premier rôle au cinéma dans le film
"Un Homme Sans Importance",
son rôle n'était pas important, mais marque le début d'une carrière prométeuse.
Peu après, il obtient le premier rôle dans le film
"Disappearance of Finbar"
en 1996. De retour à sa maison à Cork, il reçoit un coup de fil pour le film
"Michael Collins",
et il décroche le rôle de l'assassin de Collins en 1996. Johnatan enchaîne ensuite les tournages,
"Maker"
et
"Telling Lies in America"
en 1997,
"Governess"
et
"B. Monkey"
en 1998,
"Titus"
1999,
"Joue la Comme Beckham"
en 2002,..etc.
En 2005, Jonathan reçoit le
Golden Globe
pour son rôle d'Elvis Prestley dans la mini-série
"Elvis",
rôle pour lequel il a aussi eu une nomination aux
Emmy Awards
. En 2006, on le trouve sur l'affiche de
"Mission Impossible III"
aux côtés de Tom Cruise, et en 2007, il revient à la télévision sous les traits du rois Henry VIII dans la série
"The Tudors".
Le saviez-vous?
Jonathan Rhys Meyers n'est pas seulement acteur, il est aussi chanteur. On découvre ses talents dans le film Velvet Goldmine en 1998 dans lequel il joue mais signe aussi 15 chansons sur 18 de sa BO.

Il est né avec des problèmes cardiaques, ses parents ont dû le baptiser très vite de peur qu'il ne vive pas assez longtemps.

Il a changé de nom et s'est fait appeler "Jonathan Rhys Meyers" quand il est entré dans le milieu de la comédie. Meyers est le nom de jeune fille de sa mère. Rhys se prononce (risse).

En 1998, il est classé 34ème (sur 100) homme le plus sexy au monde par le magazine Cosmopolitan.

Pour se défaire de son image androgyne de jeune garçon mégrichon, ce qui le contonne souvent à des rôles de junky ou de faible, en 2004, il suit un régime grâce auquel il prend 25 livres supplémentaires de muscle, ce qui lui permet d'obtenir des rôles plus masculins.

Il est l'égérie de la marque de parfum "Hugo Boss", il a aussi posé pour Versace homme pour la collection automne/hiver 2007.

Côté coeur, il a fréquenté plusieurs actrices: Toni Collette, Asia Argento, Rachael Leigh Cook ou Estella Warren. Il sort avec la riche héritière Reena Hammer.
Source: The Tudors Hypnoweb